¿QUÉ ES DIAGNÓSTICO DENTAL? WHAT IS DENTAL DIAGNOSIS?
Somos un centro diagnóstico especializado que brinda al paciente un análisis exhaustivo de su radiografía panorámica, colaborando con el odontólogo para que pueda realizar un plan de tratamiento presuntivo.
We are a specialized diagnostic center that provides the patient with an exhaustive analysis of their panoramic X-ray, collaborating with the dentist so that they can carry out a presumptive treatment plan
REALICE SU DIAGNÓSTICO ONLINE
MAKE YOUR DIAGNOSIS ONLINE
Obtener un diagnóstico online de nuestros especialistas es sencillo, conveniente y se realiza de forma privada y segura.
Obtaining an online diagnosis from our specialists is simple, convenient, and is. done privately and securely
LA RX PANORÁMICA, EXCELENCIA EN PREVENCIÓN. PANORAMIC RX, EXCELLENCE IN PREVENTION
La radiografía panorámica es el único estudio de imágenes que los odontólogos deben pedir de rutina todos los años como medida de prevención.
Panoramic radiography is the only imaging study that dentists should routinely order every year as a preventive measure.
Su informe llegará por correo electrónico dentro de las 48 horas, en días hábiles.
Your report will arrive by e-mail within 48 hours on business days.
Nuestro equipo de especialistas en diagnóstico por imágenes bucomaxilofaciales tienen más de 20 años de trayectoria, su excelencia es una garantía de confianza en el rubro.
Our team of specialists in buccomaxillofacial imaging has more than 20 years of experience. Its excellence is a guarantee of confidence in the field.
Nuestros profesionales reciben las RX Panorámicas, las analizan y responden las inquietudes en tiempo y forma. El servicio online evita demoras innecesarias, ahorrando tiempo y dinero antes de la consulta clínica.
Our professionals receive the Panoramic XRs, analyze them and respond to the concerns in a timely manner. The online service avoids unnecessary delays, saving time and money before the clinical consultation.
Después de enviar el informe correspondiente y responder las preguntas de seguimiento, su información será eliminada de nuestra base de datos.
After submitting the relevant report and answering the follow-up questions, your information will be removed from our data base.
Realice su diagnóstico online
Make your diagnosis online
Complete el formulario para recibir un análisis exhaustivo y detallado de su RX panorámica.
Fill out the form to receive a comprehensive and detailed analysis of your panoramic RX.
Importante. Luego de abonar el servicio en el siguiente paso nuestros especialistas evaluarán el material recibido.
Important. After paying for the service in the next step, our specialists will evaluate the material received.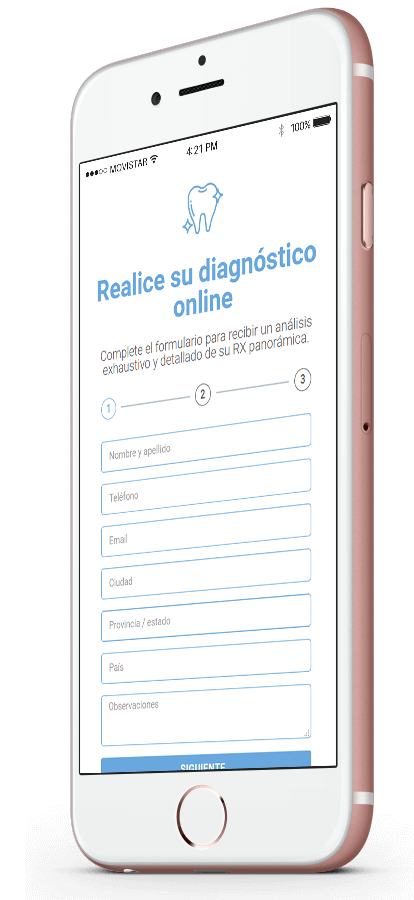 ¿Interesado en Diagnóstico y Tratamiento?
If you are Interested in Diagnosis and Treatment, please contact us.
Cualquier consulta estamos a tu disposición. Te responderemos a la brevedad.
We are available to you for any questions. We will reply to you shortly.